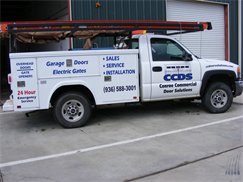 CCDS not only installs a large variety of residential and commercial overhead doors, door openers, gates, and gate operators, but we also service and repair most existing models. So feel free to contact us about all your door and gate needs to become another satisfied CCDS customer today.
We also perform regular gate service maintenance on gates, both for businesses and for homeowners. No matter how strong or high-quality your gate is, it should have regular service maintenance to ensure its optimal performance.
Some companies recommend annual service checks on their gates to maintain the best working conditions, as fasteners and other gate hardware can slowly become misaligned or rusted, and electrical components can deteriorate over time.
Regular service maintenance on your gate will also help prevent major complications in the future and help ensure that the manufacturers warranty remains valid.
We service the Brazoria, Brazos, Chambers, Fort Bend, Galveston, Grimes, Harris, Liberty, Madison, Montgomery, Polk, San Jacinto, Trinity, Walker, Waller, Washington and surrounding counties.
Let's discuss your needs! Your free quote is just a phone call away.
Contact Numbers:
936-588-3001/Office
936-588-3009/ Fax
1-877-475-Door (3667)Toll Free
You can also submit a request here online